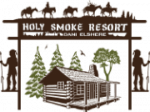 Holy Smoke Resort Cabins and RV Park Your Black Hills Vacation Starts Here
Cabins, RV Sites Vacation Rentals & Executive Lodging
If you're after peace and quiet, nature, and the scent of pine, you've found your place. Step out your door and smell the fresh pine. Put your boots on and hike through the forest. Enjoy the peace, quiet, and privacy of your own cabin.
A Comfortable Night's Stay With Prices That Won't Keep You Tossing and Turning
Located 1 mile northwest of Keystone in Buckeye Gulch, the area was first inhabited by Fred Cross as early as the 1870s. The Vulcan Mining Group, of which Holy Smoke is part, originally occupied 102 acres of gold, silver and copper deposits and was founded by the colorful Col. James A. (Big Hat) Clark. Clark was so intrigued with the naming of Keystone's notorious "Holy Terror" mine, that he named his property "The Holy Smoke." Ore was located in this area in Pre-Cambrian Schist and Quartzite and two shafts were sunk at the 85′ and 106′ foot levels. Ore from the mine was taken to Keystone's custom mill for processing.
Popular author Stewart Edward White came to the Holy Smoke in the late 1800s dressed as a miner and leading a pack mule. Here he stayed in a log cabin and wrote three best selling novels – "The Westerners," "The High Graders," and "The Claim Jumpers." Working as paymaster in one of the local mines, White was almost hung by mistake over a wage dispute. He left the Holy Smoke and went to Arizona and became a well-known author of Western semi-fiction.
Additional pet charges may apply, maximum of 2 dogs per unit.
Fort Hays is more than just a set of buildings; it's a trip back in time where you can see antiques that actually operate still today.
You can find Black Hills Gold from Deadwood, make your own tin plate or brick, and even watch your own hunting knife take shape at the Blacksmith shop. Experience the Old West like never before with our town square – one of the best family-friendly attractions in Rapid City!
Visit the Rope Shop, Tin Shop, Blacksmith Shop, and so much more, including the best gift shops in the Black Hills. At night, be sure to attend our Chuckwagon Supper & Music Variety Show featuring a hearty Chuckwagon menu and the most entertaining show in the Black Hills!
We serve up the best Chuckwagon menu in the West, from potatoes to BBQ beef, baked beans, and more, served on handmade tin plates with drinks poured into tin cups.
The Fort Hays Wranglers then take the stage to entertain you with the Black Hills' most popular music variety show. We guarantee a foot-stompin', belly shakin', good time!
Arrive early every morning for our "All-You-Can-Eat" pancake breakfast for just 99 cents.
Follow the boot prints through the door and grab a home-made tin plate from the stack. Then give your request to the cowboys and cowgirls eager to serve you. Our head cook and bottle washer arrive before the sun each morning to start baking the biscuits and sausage for breakfast so it's fresh and hot. There's plenty to eat so don't be shy!
The log cabins offer authentic western decor with hand-made furniture and western art.