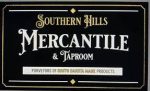 Step back in time & relax in our 1900's style dining room with elegant turn-of-the-century decor.
Southern Hills Mercantile (SD Made products, including Craft Beer / Wine / Kombucha) and "The Merc" Taproom, will open in 2022! We are shooting for early summer. We've got a lot to do and will keep you posted on our progress, every step of the way
Southern Hills Mercantile is also the home of Scobi Kombuchary! Although Scobi Black Hills Kombucha is a Wholesale business, we will carry all flavors in our Taproom!
**Allow 30 – 90 minutes. 
The National Presidential Wax Museum was founded in 1971 by famous Hollywood wax sculptor Madame Katherine Stubergh and renowned movie set designers Don and Bonnie McPhee.