The kids have seen Mount Rushmore. Now what? Here enters Rushmore Tramway Adventures, the most exciting collection of Mount Rushmore attractions in the Black Hills! For 50 years, our aerial tramway has been a must-see addition to any Mount Rushmore trip.
Our Exciting Variety of Attractions
For the last 15 years, the reasons to visit our adventure park have continued to grow. Whether you're more inclined to leisurely, mountaintop strolls, or high-speed, hairpin descents, Rushmore Tramway Adventures has something for everyone in your family or group to enjoy.
Aerial Adventure Park has rapidly become one of the most popular attractions in the Black Hills of South Dakota. Imagine yourself exploring the Black Hills in our obstacle course suspended in the trees! Following a safety demonstration, you'll begin your adventure by traversing suspended bridges, climbing log ladders, balancing along with cables, and riding ziplines through the forest!
After our most recent addition, Rushmore Tramway Adventures is now offering eight different Aerial Adventure Park courses. Sprawling over two acres, incorporating upwards of 100 different platforms, and 11 zip lines it's the ultimate adventure. Starting with the yellow course being the easiest to black being the most difficult, we've ensured there's something for all skill levels in your family or group.
Be sure to wear closed-toe shoes and comfortable clothing!
The 2000-foot Alpine Slide continues to be a fan favorite! Hailed as one of the best maintained Alpine Slides in the country, imagine bobsledding without the snow and cold!
Riders descend two parallel tracks on one of a kind wheeled sleds through dips and high-banked turns. Controlled by a hand brake, riders determine their own speed and thrill level. The Alpine Slide has proven to be one of the most addicting attractions at Rushmore Tramway Adventures – for our employees too!
The Alpine Slide is great for everyone from young kids to seasoned adults. Bring your entire family as adults are able to ride double with their little ones.
See you at the bottom!
For over fifty years the scenic chairlift has provided breathtaking views of Mount Rushmore and the beautiful Black Hills' scenery. The scenic chairlift allows people of all ages to enjoy a full nature immersion as you float through the Ponderosa Pines on your way towards our mountain-top summit.
The scenic chairlift is a great way for family and friends to effortlessly connect to nature and the Black Hills. Simply sit back and let yourself experience unparalleled views of Mount Rushmore and endless miles of the Black Hills National Forest!
After relaxing at our summit oasis, ride the chairlift back down if you'd like or if you're feeling more of an adventure, check out the thrills of the Alpine Slide!
If you haven't ever done a zipline before you are missing out! Rushmore Tramway Adventures has two side-by-side, 800-foot zip lines that allow friends and family to race to the bottom. There's nothing more thrilling than zipping through the Black Hills at speeds of almost 40 miles per hour!
Our highly trained staff does pretty much everything for you. After being situated into a full-body harness, you'll take a leisurely walk up to our zipline launching deck. Once there, our Zip Pros take it from there and send you on your way to a thrill of a lifetime!
Don't worry about having to brake or slow down. We have that covered! We use a world-renowned, magnetic braking system called ZipStop that does all the work for you. With safety as our primary concern, two additional brakes ensure people of all ages have the thrill of a lifetime!
Pinnacle 2 Hour Zipline Tour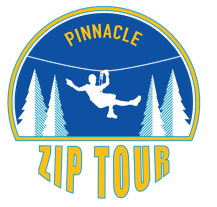 Travel through the lush landscapes of the Black Hills surrounding Mt. Rushmore on this ultimate outdoor adventure tour! Push yourself beyond your limits as you embark on a two-hour journey of nature and ziplines. Spanning over a mile of forest, experience 5 side-by-side dueling ziplines reaching heights of up to 400 feet!
Our professional guides are with you every step of the way as you experience the Black Hills from the air. They'll uncover South Dakota's rich history and keep you laughing along the way. As South Dakota's first zipline tour, we're extremely excited to offer the unique blend of adventure, adrenaline, and the outdoors.
Did we mention you can see the Mount Rushmore National Memorial on almost every zipline?! We think that's pretty darn cool!
Adding to our arsenal of adrenaline-pumping attractions, the Jump Tower does not disappoint! If you've ever dreamed of free falling, this is it!
Towering 60 feet high, the Jump Tower allows participants to push their limits and conquer their fears. Step up to the ledge and just walk off to experience the heart-pounding thrill of free-falling nearly 25 feet! Moments later, the Quick Jump device activates its braking system which will gently lower you back to earth.
Prefer to watch instead? Grab a seat down below and cheer on the brave souls who dare to jump!
Home of the Cloud Burger!
Just over a mile across the valley from the Mount Rushmore National Memorial, we've created an escape from reality. The Grille sits overlooking the vast expanse of the Black Hills National Forest as well as Mount Rushmore.
We're serving up classic American food such as brats, bison burgers, and chicken sandwiches to satisfy your appetite. Thirsty? Wash it all down with countless domestic and locally brewed beers. There's something pretty spectacular about enjoying a cold brew on top of a mountain looking at Mount Rushmore.
We've taken a lot of pride in creating a meaningful place to relax outdoors. The abundance of meticulously maintained flower gardens and walking trails create a Zen-like flow that refreshes us all.
Truly a hidden gem, our summit Grille is arguably the most scenic lunch spot in the Black Hills. Don't take it from us, come experience the splendor first-hand!
The first and only summer tubing hill in South Dakota! Yep, that's right. At nearly 450 feet long, this lazy thrill ride is designed for all ages between 4 and 104 years old. The Tubing Hill has four different lanes that tubers can cruise down over whoops and bumps until coming to a gradual stop at the bottom. Not ready to go full tilt? No problem. The Tubing Hill also has a kids' lane that allows younger riders to experience the same thrill at slower speeds!
Once you've finished your first Tubing Hill run simply step on the magic carpet and let it do the work as it takes you to the top for days of endless tubing!
How does summer tubing even work?! We've got you covered. Our Tubing Hill is gravity driven where each rider descends down individual lanes made of recycled plastic (think artificial turf) in an inflatable tube with covered sides and bottom!