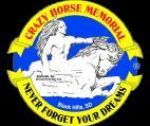 Largest Mountain Carving in Progress!
Crazy Horse Memorial is located in the heart of the beautiful Black Hills. The Mountain is 6,532 ft and ranks 27th highest mountain in South Dakota. It is made of pegmatite granite and was chosen by Sculptor Korczak Ziolkowski & Lakota Chief Henry Standing Bear for the Crazy Horse Memorial.
The Mission of Crazy Horse Memorial Foundation is to protect and preserve the culture, tradition and living heritage of the North American Indians. The Foundation demonstrates its commitment to this endeavor by following these objectives:
Frequently Asked Questions
Productions are not recommended for children under 4 years of age as they often do not have an attention span for 2-hour performances. Please note that parents will be asked to take children outside if they are disruptive to other patrons.
Pre-order with at least 48 hours.
Pick up at the snack bar before your performance.
Grab a picnic table in Haberman Hall or near the creek.
Picnic Boxes can be added onto tickets at the time of purchase or ordered by calling the box office.
Whether it's your first time, or you just need a refresher, here's an area dedicated to what to bring, what to wear, and what to expect during your visit to the Black Hills Playhouse.