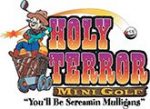 The Holy Terror Mini Golf course is nestled on the side of a pine-covered slope in Keystone.
Named after the last active gold mine in Keystone, the course will have you "screamin' mulligans" as you putt around gold-flecked boulders, up steep hills, down through the mine slew, and around the water wheel and bubbling stream. A mini-golf experience the whole family will never forget!
Challenging, yet fun! The 18-holes meander more than 50 feet up a steep hillside, and then down again, unified by a gold mining motif and rushing water that flows from a water tank, through sluices, over a waterwheel, and into a millpond.  They even have three kinds of artificial turf that simulate fairways, sand traps and rough. 
Located next to the National Presidential Wax Museum and Grapes and Grinds Coffee Shop & Wine Bar. 
On the road to Mt. Rushmore. 
**Allow at least 1.5 Hours.
Holy Terror Mini Golf Pricing
Fort Hays is more than just a set of buildings; it's a trip back in time where you can see antiques that actually operate still today.
You can find Black Hills Gold from Deadwood, make your own tin plate or brick, and even watch your own hunting knife take shape at the Blacksmith shop. Experience the Old West like never before with our town square – one of the best family-friendly attractions in Rapid City!
Visit the Rope Shop, Tin Shop, Blacksmith Shop, and so much more, including the best gift shops in the Black Hills. At night, be sure to attend our Chuckwagon Supper & Music Variety Show featuring a hearty Chuckwagon menu and the most entertaining show in the Black Hills!
We serve up the best Chuckwagon menu in the West, from potatoes to BBQ beef, baked beans, and more, served on handmade tin plates with drinks poured into tin cups.
The Fort Hays Wranglers then take the stage to entertain you with the Black Hills' most popular music variety show. We guarantee a foot-stompin', belly shakin', good time!
Arrive early every morning for our "All-You-Can-Eat" pancake breakfast for just 99 cents.
Follow the boot prints through the door and grab a home-made tin plate from the stack. Then give your request to the cowboys and cowgirls eager to serve you. Our head cook and bottle washer arrive before the sun each morning to start baking the biscuits and sausage for breakfast so it's fresh and hot. There's plenty to eat so don't be shy!
The log cabins offer authentic western decor with hand-made furniture and western art.