BLACK HILLS OPEN-TOP-TOURS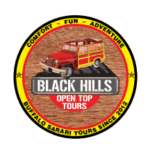 Custer State Parks No.1 Bison Jeep Safari
Not just a short "60-minute" tour like the others.
Bison Safari Tours are 6 Hour Tours to 'ALL' of Custer State Park.
Touring in safe modified Jeep Wranglers and Gladiators.
Individual Jeep seating from 2 to 14 guests. . .group tours available for up to 40.
Three season comfort . . . heated rear seating for spring and fall. . . with water misting systems to cool you in summer.
Tours are also available in our comfortable "Woody" convertible-top vans . . .10 sliding tops, AC and individual seats.
You will experience exceptional viewing with 360-degree wildlife photo ops . . . bison, deer, pronghorn, burros and more.
Enjoy South Dakota's famous Sunshine and Fresh Air during your Bison Jeep Safari!
~ Itinerary ~
8:00am Depart Rapid City
8:30am Depart Keystone
9:15am State Game Lodge
9:30am Wildlife Loop (Bison)
10:00am 'New' Bison Center
11:15am Mt Coolidge (6020 ft)
11:45pm Stockade Lake ~Picnic~
12:30pm Sylvan Lake
12:45pm Needles Highway
1:15pm Iron Mtn Road
2:00pm Returned Keystone
2:30pm Returned Rapid City
Tour includes: fees, bottled water, snacks and your choice of turkey or ham sub picnic. You may also bring along any food or beverage you would like.
8 Great REASONS TO CHOOSE OPEN-TOP-TOURS:
Lots of photo ops, restroom breaks and we never rush you! 
Experienced, knowledgable and fun guides sharing the regions history.
Custer Parks #1 "Bison Safari Tours." 
Sunshine & Fresh Air- Discovery Tours 
Grand Slam- Private National Park Tours 
Affordable- Family Friendly pricing 
Private Packages- Multi Day Tours 
Tours include: Fees, Bottled Water, Snacks, Lunch, and Wine/Beer (on request)
Not just a short 60-minute tour like the others. Bison Safari Tours are 6 Hour Tours to 'ALL' of Custer State Park. Your choice Jeep or convertible top van. You'll see Iron Mtn Road, Needles Highway, Sylvan Lake, Mt Coolidge, Custer State Game Lodge the Wildlife Loop (bison) plus enjoy a picnic lunch at Stockade Lake.
LIMITED MOBILITY - WHEELCHAIR ACCESSIBLE - CONVERTABLE TOP VAN TOURS
Get out and enjoy the Black Hills and Badlands . . . do things that you might not have thought you could do. OPEN-TOP-TOURS has been offering mobility challenged tours of the Black Hills since 2013. We currently are the only tour company offering ADA guided tours. Enjoy the Black Hills in our special modified Sprinter van with 10-foot sliding top. Excellent viewing and plenty of fresh air. Additional standard seating for five with individual leather window seats. Please contact us for more information. We love to work with you.
PRIVATE BLACK HILLS - SMALL-GROUP DISCOVERY TOURS
Great Things Come in Small Packages.
Grab a few of your best friends, favorite family members, or like-minded enthusiasts to join you on a Small-Group Discovery Tour! With an average of just 4 to 24 guests, small group tours give you more room to roam the Black Hills Region with friends or family from home, while getting up close and personal to wildlife, iconic sights, and less-traveled locations!

Single or Multi-Day Tours – To any or all of the Black Hills attractions. Lodging is not included; however, we provide local hotel/cabin/B&B information and would be happy to assist you with your reservations.

Reunions – Wedding Groups – Corporate Retreats – Family Getaway Weekend
We can make planning and booking your trip easy – from expert advice to local travel and lodging suggestions. You choose the attractions and destinations, and we will put it together for you.
GRAND SLAM - PRIVATE TOURS
4 National Attractions 
Mt.Rushmore 
Devils Tower National Monument 
Badlands National Park
Back Hills National Forest 

Hosted by our most experienced senior guides. Special pricing for purchasing multiple tours and upgraded amenities.
Fort Hays is more than just a set of buildings; it's a trip back in time where you can see antiques that actually operate still today.
You can find Black Hills Gold from Deadwood, make your own tin plate or brick, and even watch your own hunting knife take shape at the Blacksmith shop. Experience the Old West like never before with our town square – one of the best family-friendly attractions in Rapid City!
Visit the Rope Shop, Tin Shop, Blacksmith Shop, and so much more, including the best gift shops in the Black Hills. At night, be sure to attend our Chuckwagon Supper & Music Variety Show featuring a hearty Chuckwagon menu and the most entertaining show in the Black Hills!
We serve up the best Chuckwagon menu in the West, from potatoes to BBQ beef, baked beans, and more, served on handmade tin plates with drinks poured into tin cups.
The Fort Hays Wranglers then take the stage to entertain you with the Black Hills' most popular music variety show. We guarantee a foot-stompin', belly shakin', good time!
Arrive early every morning for our "All-You-Can-Eat" pancake breakfast for just 99 cents.
Follow the boot prints through the door and grab a home-made tin plate from the stack. Then give your request to the cowboys and cowgirls eager to serve you. Our head cook and bottle washer arrive before the sun each morning to start baking the biscuits and sausage for breakfast so it's fresh and hot. There's plenty to eat so don't be shy!