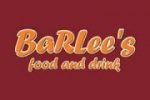 Enjoy homestyle restaurant cooking and classic comfort food smoked on-site and grilled the way you want it when you stop by BaRLee's food and drink.
Consider our place, your place. This is a bar and restaurant where your favorite American cuisine is made from scratch. Our most popular menu items are our hand-formed burgers. You can have one of 10 different burgers, as well as a vegetarian, black bean burger. Since we make everything fresh, we cater to customers who have a sensitivity to gluten. We have locally sourced and deliciously ground buffalo burgers and a seasonal selection of local craft beers on tap. You may also enjoy a few Mexican and Italian items our chef has created. Discover casual fine dining you don't have to dress up for. Eat on the outdoor patio and covered deck or behold the beauty of an original back bar from the 1880s.
Frequently Asked Questions
We have four TVs downstairs, with Direct TV. If there's a sporting event you or your group wants to watch, call and check availability. We air all stations and are a great gathering location for groups and families. 
Pool Table and Direct TV in the Lounge
Family & Pet-Friendly
Indoor & Outdoor Dining
Let us host your next special event. Contact us with the details at least one month prior to your special function so we can begin planning a fantastic event. We host:
Weddings
Rider Groups
Holiday Parties
Group Dinners
Family Reunions
You may have any of our menu items catered. Again, please allow us a month of lead time to plan and order all of the products needed for your group. 
Please choose two to three items from our menu and we'll work to accommodate your requests. Call for more details about catering so we can formulate a menu for you.