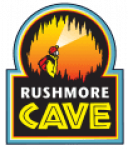 Rushmore Cave, located on Highway 40, is the original attraction at Rush Mountain Adventure Park, which also features the Rushmore Mountain Coaster, 7D Interactive Ride, the Wingwalker Challenge Course, and the Soaring Eagle Zipride.
Scenic Walking Tour – This fun & educational underground guided tour of Rushmore Cave reveals the beautiful and amazing carvings formed by nature. Explore subterranean passageways that lead to spectacular stalactite rooms and discover other natural limestone cave formations.
An expert guide will lead you on a journey through local history, Rushmore Cave geology and the many untold stories that reveal the hidden world that lies beneath us. It's a total must-do attraction for anyone visiting the Black Hills of South Dakota.
The scenic walking tour is approximately 45 minutes to 1 hour in length. Some stopping in places for low ceiling & the ability to climb many stairs and inclines, as well as navigate uneven paths are necessary. Sturdy walking shoes and a light jacket is recommended. During the summer season, cave tours leave regularly so come at your convenience, no reservations required. (Just know that the last cave tour leaves one hour before closing.) If you are visiting in the Spring or Fall, please call 605-255-4384 for the current tour schedule.
Frequently Asked Questions